Data centres power the internet and digital compute for society
Digital infrastructure, and the data centres which sit at the heart of this, is strategic and critical for both corporates and governments. It is an enabler of social and financial inclusion as we level up cities and unlock productivity growth on a global basis.
Data centres provide the space, power, cooling and connectivity to power our towns and cities. Modern multi-occupant co-location data centres are built to maximise energy and storage efficiency. Businesses and institutions are now choosing to shift their IT and data servers from inefficient in-house facilities to cheaper, more flexible and sustainable purpose designed co-location data centres.
Every minute, data is created and accessed by:
4.5m
video watches on Youtube
4.4m
Google searches
180m
email sends
Source: Domo 'Data Never Sleeps 7.0', Statista, Go-globe.com;
There are many components accelerating the growth in data on a global basis and it is important we have the robust digital infrastructure to support the surge. The covid-19 pandemic accelerated adoption of digital tools and our data usage increased.
Driven by the emergence of new technologies, we are becoming more reliant on data centre infrastructure.
By 2023, 5G processing speeds will be 13x faster than the average mobile connection
Artificial intelligence is expected to grow at 42% CAGR from 2020-2027
Virtual reality consumes 10x the amount of data vs standard video and driverless cars generate 40 terabytes of data for 8 hours
Source: 2. Cisco Annual Internet Report (2018-2023), vXchnge, Artificial Intelligence Market Size & Share Report (2020-2027), Intel Research;
Through strategic partnerships, we are growing the UK's largest data centre portfolio
Backed by Legal & General Capital and multi-billion family office Goldacre - Noé Group, and most recently Infratil, Kao Data is a leading UK developer and operator of advanced data centres for high performance colocation.
Kao Data's first Harlow campus is one of the largest and most advanced data centre campus developments in the UK. It represents the future in sustainable, efficient and mission critical computing - providing an industry blueprint to develop further best-in-class data centres. Kao Data is looking to build on the success of its first campus facility, with further growth expected across the next couple of years.
Kao Data's Harlow campus runs on 100% renewable energy. It is strategically located to serve the UK Innovation Corridor between London and Cambridge, providing cloud, high performance computing, artificial intelligence (AI) and enterprise customers with a world-class home for their compute.
The UK Innovation Corridor is the fastest growing economic region in the country and a specialist area for life sciences laboratories, pharmaceutical multinationals, scientific research institutes and AI start-ups. There are more patents per capita in the UK Innovation Corridor than Silicon Valley.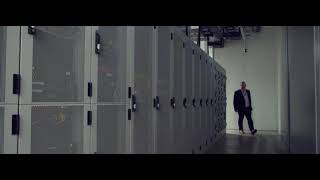 Enabling pioneering health care research
Kao Data Centre is home to NVIDIA's Cambridge-1 supercomputer which is focussed on supporting collaborative scientific research and tackling large-scale healthcare challenges using the power of high performance computing (HPC) and AI.
Many prestigious healthcare companies and institutions including AstraZeneca, GSK, Guy's and St Thomas' NHS Foundation Trust, King's College London, and Oxford Nanopore will be using Cambridge-1 to solve some of the toughest healthcare challenges of our time. AI-accelerated computing when applied to medicine is particularly adept at identifying patterns in data that can improve the detection, diagnosis and treatment of diseases.

Get in touch
We'd love to hear from you. For all Data Centre enquiries, please click the button below.