Looking to the future
As a response to climate risk, air pollution policy change and the falling costs of power from wind and solar, the global energy system is decarbonising.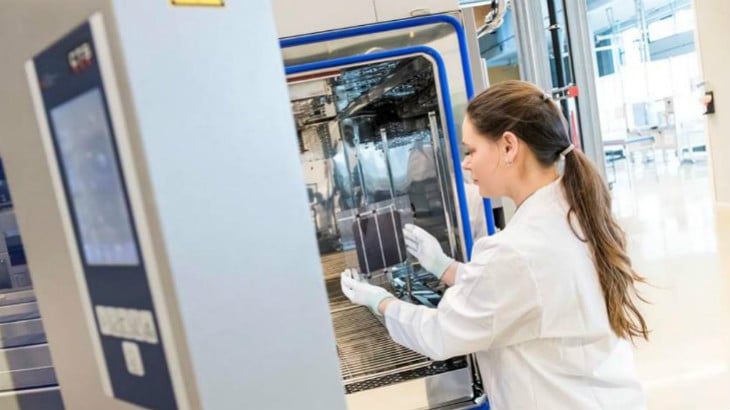 The future of our energy system must be clean and more responsive to consumers, costs must be reduced and service delivery optimised. Disruptive and rapid change is already underway. 
Last month Oxford Photovoltaics (Oxford PV), a Legal & General Investee, announced a key milestone in their plans to deliver higher volumes of affordable electricity derived from solar panels. Oxford PV's perovskite-silicon tandem solar cell has achieved a 27.3% conversion efficiency, setting a world record for a single-junction silicon solar cell. This technology has the potential to enable efficiency gains that will transform the economics of silicon solar technology and help accelerate the proliferation of solar energy generation globally.
This latest announcement from Oxford PV isn't just a milestone for them, but is significant to us. Oxford PV's world record is a further step forward in the long-term decarbonisation of the global and UK energy system, which is the core purpose of Legal & General's clean energy investment strategy. 
Anyone who lives or has lived in the UK will know that we discuss the weather - a lot. Whilst it might make our seasons unpredictable, our summers sometimes disappointing and the chances of a white Christmas slim, it does give us the unique ability to harness this variety of natural renewable energy. With the UK's target to cut emissions by 57% by 2030 - compared to levels in the 1990's – there is an urgent need for long-term investment into innovators and market disrupters to help accelerate the rate at which the UK is currently decarbonising.  
The UK has an extensive power network system in place, is a world-leader in computing, science, engineering and technology, and has access to a sophisticated financial services sector. The UK is now uniquely placed to become leaders in the clean energy technologies of the future, as well as pioneers in research and engineering.  
Legal & General has, and continues to, invest long-term capital into the evolving landscape of the energy sector in order to mature technologies, accelerate progress to low cost, low carbon economy and reduce the cost of power for consumers. Investment focus in this sector to date includes renewable wind and solar power generation, more efficient houses and buildings for our cities, and innovative technologies to control, manage and store energy in order to make the most efficient use of the mix of the various energy resources available.
With a long-term view, investments in wind and solar generation technologies (ie. our investments with NTR Plc, an Irish renewable energy company and leading investor in wind energy focused on Ireland and the UK, and Oxford PV respectively) – which are currently the most competitive with fossil fuels, and sophisticated software to manage batteries and power devices in order to match renewable generation with demand (Upside Energy), recognises the challenges that come with the variable nature of renewables.  
Upside Energy's cloud platform uses sophisticated computer software to co-ordinate energy generators and storage devices connected to homes, businesses, industrial sites and electric vehicles. As a collective, these devices form a 'virtual energy store' that can provide back-up power to the national grid, an increasingly important service as the national grid becomes more reliant on intermittent renewables for power. 
Whilst NTR, Oxford PV and Upside will all make a significant contribution to a clean energy future at both a local and potentially global scale, around the world there has been growing interest in the potential for fusion power.   If nuclear fusion can be commercially delivered, it will be an absolute game-changer for the planet as just one tablespoon of liquid hydrogen fuel could generate as much energy as 28 tons of coal without long-lived radioactive waste or carbon emissions.
Tokamak Energy, a Legal & General investee and UK-based company employing a growing team of engineers, scientists and physicists, have made significant progress towards their aim to deliver commercial fusion power by 2030, with the successful development and testing of their "ST40" prototype device and high temperature superconductor magnet technologies.
Legal & General is in a unique position; we are able to invest throughout the future energy system, with our proximity to consumers, local housing and property developments in UK cities as well as large scale capital to deliver solutions at a regional and national scale. Our integrated approach ensures we are taking an overview of the interests of short term growth, as well as the opportunity for long-term sustainable clean energy generation. With our investees, we have the extraordinary potential to accelerate decarbonisation at a lower cost and with wider benefits for all consumers, by reducing emissions and pollution to make our future cities healthy and liveable.