Modern methods of construction offer a way to redress the UK's housing shortfall without exacerbating climate change
Society currently faces a dilemma. On the one hand, we have a decade to prevent catastrophic climate change. On the other, there is a chronic housing shortage that requires the provision of new homes – but building with conventional methods would only increase carbon emissions.
However, it is possible that by transforming the way we build homes in this country we can also reduce emissions. There has been much talk of the benefits of volumetric modular technologies, but it has yet to really capture the public imagination. Beyond the pandemic, though, modern methods of construction (MMC) can enable the construction of beautiful, high-quality homes at speed and – importantly – with lower carbon emissions than traditional methods.
Net-zero target
At Legal & General, we have pledged to make all our new housing stock net zero in terms of operational carbon by 2030. The UK Green Building Council defines net-zero operational carbon as when 'emissions associated with the building's operational energy on an annual basis [are] zero or negative'.
Legal & General Group is therefore working to improve the thermal performance of homes and incorporate low-carbon technologies that will reduce the amount of energy used. This will be implemented in a phased approach across all homes in which the groups invests or that it builds.
This work follows energy-saving initiatives in the design and operation of our housebuilding businesses. One such business, Inspired Villages, has already started to develop the UK's first net-zero retirement community for instance.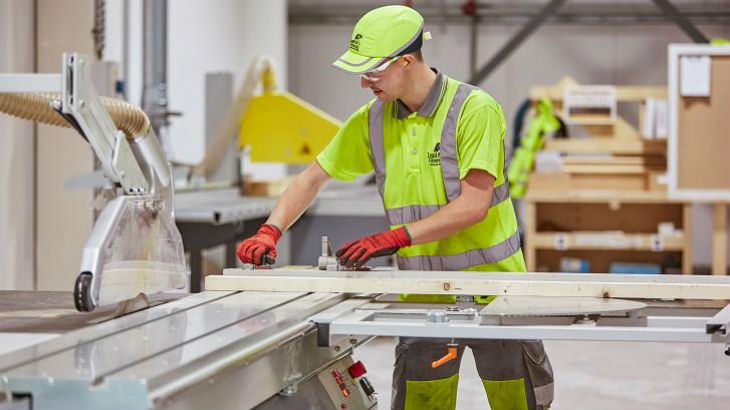 Why modular?
As we move towards net zero, modular housing provides us with an immediate advantage. Legal & General modular apartments and family homes already achieve an energy performance certificate rating of A, which is currently only attained by around 1% of new homes. We have product development plans to improve the performance of our homes and develop our first net-zero regulated operational carbon scheme in the near future.
Our homes include design features and technologies such as sustainable building fabric, heat pumps, solar-photovoltaic cells, while our manufacturing process ensures that they are built consistently to a design that will save significant amounts of energy once in use. Materials are responsibly sourced, with low levels of embodied carbon specified where possible. Meanwhile, landscaping on site supports biodiversity. Using precision engineering, lean manufacturing techniques, such as value stream mapping and continuous improvement, along with quality assurance, a modular approach also uses fewer materials than traditional building methods and generates far less waste.
One of the benefits of modular manufacture is that less time is spent on site than with traditional construction, reducing disruption caused by noise, dust and traffic. As Legal & General homes are built to exacting specifications using techniques developed in aerospace and automotive, we can also monitor their environmental impact closely.
We are creating 500 new homes in the next year alone for projects in Selby, Bristol and Broadstairs. Once our factory is operating at full capacity, it will produce around 3,000 homes a year.
To achieve our ambitious targets, we are investing significant capital in the creation of six extra lines in the factory this year, and changing the layout to achieve better flow and higher output. In addition, we will be creating up to 300 new jobs across our production and logistics business areas before the end of the year. With this ramping up of production, minimising waste as we produce sustainable homes is crucial.
Changing perceptions
When people think of modular housing, they often still imagine small, flimsy, prefabricated homes that don't seem to belong in the locality. However, by taking responsibility for a development from start to finish, we ensure that homes are sympathetic to the local environment and provide ample leisure space for residents.

Each site is rigorously reviewed to understand the environmental impact of development. Where issues are identified, we will take steps to prevent or mitigate these effects. As part of this process, we develop a clear plan to protect or promote biodiversity.

We now have show homes in place in Selby and soon to be installed in our Bristol scheme. The public will be able to view these and see just how beautiful modular homes can be; seeing is believing, and often the best way to change public perceptions.
In addition, modular homes can vary in size, just like traditional build. In fact, at our Portholme scheme in Selby, the new homes exceed national space standards, with two- and three-bed houses and one- and two-bed apartments being constructed.

Education, therefore, has a part to play. The sustainability of modular housing is not well known in the market, but the consumer could save thousands of pounds in energy bills over the life of the home by choosing modular.
The government could also help by offering grants or reductions in stamp duty or council tax to encourage buyers to invest in zero-carbon homes, much as it has done successfully for electric vehicles. In turn, this would inspire housebuilders to invest in eco-friendly homes. We already have grants for retrofitting old houses, so why not a cash incentive to buy more energy-efficient homes?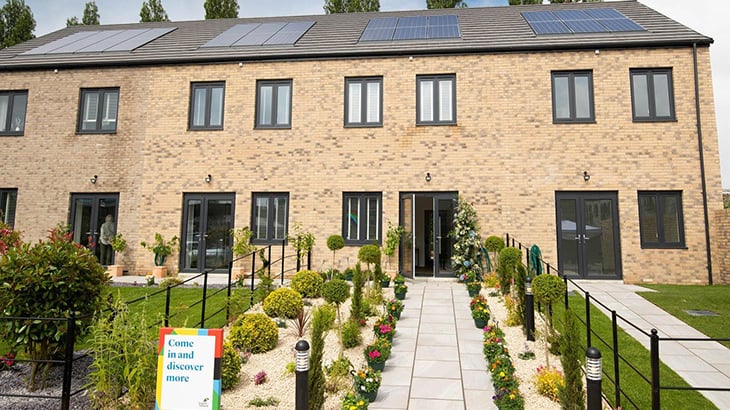 Environmental and economic resilience
We have to rebuild after the pandemic. Construction is fuel for economic growth: every pound invested creates three more, with the housebuilding sector providing jobs and vital economic resilience.
Modular offers a significant opportunity to ensure we stimulate the UK economy after COVID-19, address the housing shortage and transform the housing market by building high-quality sustainable homes in beautiful communities where people want to live.
The UK has to be a net-zero carbon economy by 2050. We have to do it right this time.
Written by Rosie Toogood, CEO of Legal & General Modular Homes.
Originally published by RICS: Royal Institution of Chartered Surveyors, July 22nd 2021.