Data centres to drive fifth industrial revolution and long term health solutions
History has been shaped by industrial revolutions since the seismic shift in the 18th century which saw machines taking over from hands in manufacturing goods. Fast forward to the present day and we are on the brink of the fifth industrial revolution; the fusing of humans and machines following the electrification, automation and digitalisation of industry.
This transition has been greatly accelerated by Covid-19 with Artificial Intelligence and Machine Learning enabling super-fast processing of huge data sets, Big Data, in speeds and ways previously unimaginable. In May 2020, the UK added 20 petaflops of high performance computing (HPC) capability to the global effort to fight the Covid-19 crisis, enabling 2.5 million calculations per person in the world per second. HPC empowers researchers to be able to run huge numbers of coordinated clinical trials, in turn - for example - allowing vaccines to be developed on vastly accelerated timescales. Vaccines are now being developed in a quarter of the time or less vs pre-pandemic – 4 years for development has now been achieved in 12 months. These are life-saving advancements on an epic scale, which in future could see accelerated production of treatments such as malaria, tuberculosis and pneumonia, which together kill millions of people a year.
Different to traditional computing, HPC runs on a higher density of servers and processors, requiring much more power to run and with this also having increased cooling needs. Advanced and custom designed HPC data centres are in turn needed to host these high-density server racks. This is where future-ready, ESG-focused data centre campuses and industrial scale multi-tenant co-location facilities like Legal & General's Kao Data come in. With advanced facilities running on renewable energy and a hugely experienced technical team, Kao Data is able to serve the needs of the most demanding HPC customers, whether that be in the life sciences sector, or more broadly across academia, financial services, energy, aerospace and other.
Noticing this requirement in 2019, Legal & General took a 50% stake in Kao Data, which is now serving a range of sector clients, including on the life sciences side, Europe's flagship life sciences data organisations in the European Bioinformatics Institute (EBI) and most recently NVIDIA's Cambridge-1 supercomputer.
As the UK's most powerful supercomputer, Cambridge-1 will support life sciences research and help preparation for future pandemics by enabling collaboration across universities, start-ups and spin outs, medical providers and pharmaceutical companies. Located in the London-Cambridge Innovation Corridor, now fully operational, Cambridge-1 enables many prestigious healthcare companies and institutions including AstraZeneca, GSK, Oxford Nanopore, King's College London and Guy's and St Thomas' NHS Foundation Trust to solve some of the toughest healthcare challenges of our time.
Data centres not only support healthcare advancement but are becoming a lynchpin in the UK's levelling up programme. As well as facilitating innovation at companies and research institutions alike, data centres enable compute driven advancement to happen from any location, creating jobs across the country. The UK is home to many start-ups and scale ups doing exceptional research and delivering game changing products.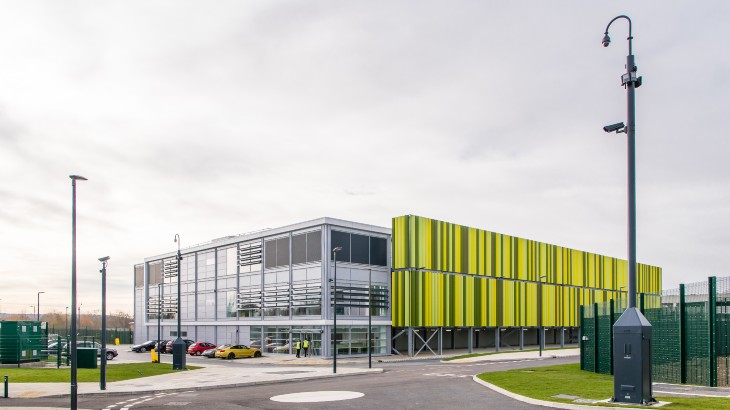 IMAGE: Kao Data, Harlow
Legal & General has seen first-hand the tremendous growth in tech and life sciences data through its backing of science parks with Bruntwood SciTech and venture capital and intellectual property commercialisation programmes in the London-Cambridge Innovation Corridor, for example with Cambridge Innovation Capital, Syncona, Atomico, Dawn and Balderton, to name just a few. Data centres will become an important component in helping these businesses and their underlying portfolio companies to continue to thrive and compete on the global stage.
Together with supercomputer architecture, such as Cambridge-1, sustainable and efficient data centres are providing the long-term foundations needed for science and healthcare progression and acting as a driving force for job and business creation by supporting remote working, living and leisure. As we look to nurture innovation and build back better post-pandemic, we need the support of advanced data centre facilities such as that of Kao Data to help make this happen and lead us successfully into the fifth industrial revolution.
Written by Matteo Colombo, Strategic Capital Investment Director