26 September 2022
Legal & General Modular Homes selected as preferred developer for major Wolverhampton residential Canalside South scheme
Legal & General Modular Homes has been selected by the City of Wolverhampton Council as its preferred developer from a strong field of contenders for one of the largest city centre residential development opportunities in the Midlands.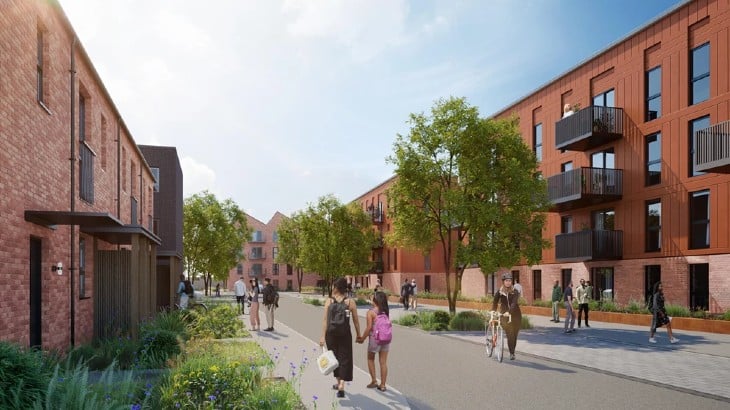 The Council has now entered into an exclusivity agreement with Legal & General Modular Homes (LGMH), a subsidiary of Legal & General Capital (Legal & General), to build around 400 new homes, subject to planning approval, at Wolverhampton's Canalside South – a former industrial site benefiting from frontage onto the Wyrley & Essington Canal and the Wolverhampton Branch of the Birmingham Main Line Canal.
The decision comes following an open market tendering process alongside partners Canal & River Trust – supported by strategic real estate advisors, Avison Young.
Legal & General's proven track record in the property sector makes them the clear choice to take on what will be a game-changing Net Zero Regulated Carbon residential development offer for the city. Precision-engineered in Legal & General's modular factory in Leeds, every modular home will include an air source heat pump, PV panels and Electric Vehicle charging point as standard – all supporting the city's climate change commitment to be net carbon neutral by 2041. In the current cost of living crisis a Legal & General Modular home will have a major impact on individuals energy bills as the homes are 60% more efficient to run for the homeowner than a Building Regulation compliant new build home and the apartments are up to 30% cheaper to heat and run than the average apartment.
The 17-acre waterfront development opportunity sits on the eastern edge of the city centre and is made up of the Canal & River Trust-owned former Crane Foundry site, and the Council's former British Steel site and its land off Qualcast Road – all brought together under a collaboration agreement designed to ensure a comprehensive development takes place.
Legal & General will also seek to deliver commercial uses alongside the new homes, such as a coffee shop, co-working space, bike hire and water activities, while landscaping will create a green corridor and promote biodiversity.
The company has committed to delivering significant social and economic benefits in accordance with the Wolverhampton Charter. This includes delivering local labour and supply chain opportunities, enhancing skills and employability, creating apprenticeships, promoting cohesion and activities within the community, and supporting health and wellbeing.
Rosie Toogood, CEO of Legal & General Modular Homes:
"I am delighted that Legal & General Modular Homes has been selected as preferred developer by the City of Wolverhampton Council to deliver this major residential development. In the face of a chronic housing shortage, steep energy bill increases, and a looming climate crisis deadline our mission is to reduce costs to consumers and the environment by producing the best quality homes in the most efficient way possible. The City of Wolverhampton shares this ambition and together we are excited to deliver a first class community for Wolverhampton and the West Midlands.
Legal & General as a business has a strong track record of delivering major regeneration projects throughout the UK. This latest development further demonstrates its commitment to delivering regeneration and housing across the West Midlands, having signed a £4 billion partnership agreement earlier this year with West Midlands Combined Authority (WMCA)."