02 November 2023
Bruntwood SciTech completes new SMART building at Innovation Birmingham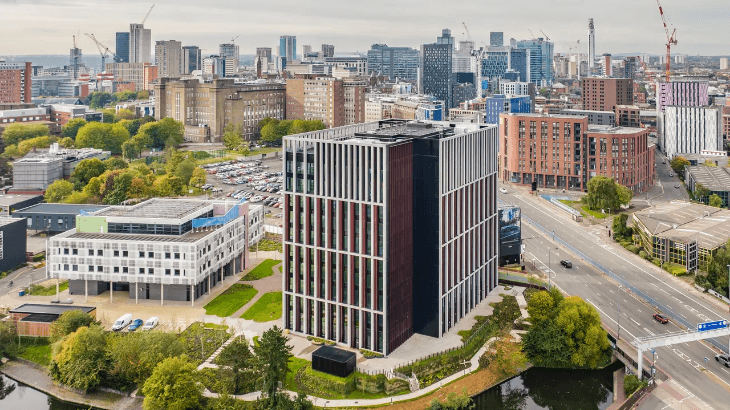 Enterprise Wharf, Birmingham's first truly SMART building, has reached completion marking a major milestone for Bruntwood SciTech, the UK's leading developer of city-wide innovation ecosystems and specialist environments.
The EPC A rated, 10 storey, 120,000 sq ft building has been developed for innovative occupiers to offer an innately tech-enabled environment to its users. The embedded SMART building infrastructure will optimise user experience and wellbeing, reduce emissions and lower operational costs. Through its smart building blueprint, Enterprise Wharf can offer more than 90 user experiences across the building, creating a significantly improved environment and working experience than would typically be experienced in any other office space.
New technologies, including state-of-the-art 'Internet of Things' sensors, have been embedded throughout the building, forming a 'central nervous system' that will provide insights into people flow, energy usage and temperature within different areas of workspaces.
Where most buildings' systems work in independent silos, Enterprise Wharf will provide businesses with much greater visibility of what's happening in the building, with immediate access to data allowing for real-time response to any customer or visitor challenges that arise. For instance, businesses based in Enterprise Wharf can harness the data to optimise heating, lighting and air quality, which are all wirelessly and independently controlled, ultimately creating an enhanced workplace experience for occupants.
To reduce the building's wider environmental impact, Demand Side Response technology has been incorporated to help alter the building's electricity usage in real-time, so at times of stress on the main grid, or in response to network operator price signals, alternative sources or reduction in electricity can be implemented to help secure sustainable and affordable electricity. The building will also use air source heat pumps and significant solar panelling to aid its ESG objectives.
Other key features of the landmark gateway building into Birmingham city centre are a large, open plan reception and collaboration space, cycle storage, space for electric vehicle charging, showers and a private roof garden with stunning views over the city. New external landscaping offers a new green space at the campus, providing direct, much improved access to the adjacent Birmingham and Fazeley Canal.
Businesses taking advantage of Enterprise Wharf's SMART Grade A workspace will also benefit from its location within Bruntwood SciTech's Innovation Birmingham campus, the West Midlands' largest dedicated tech and digital cluster which provides coworking, serviced, and larger leased office space along with specialist business support for digital and tech businesses to help them form, scale and grow. The completion doubles the capacity of Innovation Birmingham, which is home to more than 120 start-ups, scale-ups and global businesses across fintech, cyber security, AR, VR, blockchain, sports tech, edtech, and other tech and digital sub-sectors.
The milestone for Enterprise Wharf follows Bruntwood SciTech's recent announcement that it has secured a further £500m of investment and welcomed a third investor to the partnership, Greater Manchester Pension Fund (GMPF), alongside existing partners Bruntwood and Legal & General. This is the first direct and active investment by a local authority pension fund into a UK-wide science, tech and innovation specialist property platform.
The new investment makes Bruntwood SciTech the largest dedicated property platform serving the UK's innovation economy, and it has plans to create a £5 billion UK-wide portfolio that can support 2,600 high-growth businesses by 2032. A significant increase in investment from Legal & General and Bruntwood has been made through cash and asset transfer, whilst GMPF has injected £150 million that will support the UK's target to become a global science and technology superpower by 2030. In the West Midlands the new capital will be used to expand the Innovation Birmingham and Birmingham Health Innovation campuses, undertake redevelopment projects of its city centre innovation hubs, and enter additional R&D intensive locations across the region, delivering much-needed additional world-leading lab and office space.
The city centre locations that have now joined the Bruntwood SciTech portfolio include Cornerblock, Cornwall Buildings, Mclaren, and Centre City and become part of a city-wide innovation ecosystem for Birmingham.
Businesses locating to Enterprise Wharf, alongside joining the Innovation Birmingham community will gain access to Bruntwood SciTech's community across the city, as well as their national network of more than 1,100 high growth startups, scaleups and global businesses that spans 9 campuses and 31 city centre innovation hubs UK-wide. They also gain access to an expansive clinical, academic, civic, and professional services network to access highly-skilled talent, funding, new markets and growth support.
Enterprise Wharf forms part of the masterplan for Birmingham Innovation Quarter (B-IQ), which was unveiled earlier this year by Bruntwood SciTech, Aston University and Birmingham City Council. Formal JV vehicles are expected to be established between the three parties in due course as the triple helix partnership brings forward the masterplan, which is aimed at building the city's reputation as an internationally renowned tech and health innovation hub.
Rob Valentine, Regional Director at Bruntwood SciTech, said: "Birmingham is playing an increasingly vital role in the UK economy as an incubator for innovative businesses across the digital, tech and life science sectors. There is huge potential for further inward investment and growth here, and Enterprise Wharf is uniquely positioned to capitalise on that and support those businesses looking to drive this growth.
We know that fast-growing tech firms thrive when located within supportive and like-minded clusters such as Innovation Birmingham, where they can access a wealth of specialist expertise, as well as academic expertise and highly skilled talent from Aston University. Birmingham and the wider West Midlands forms a key pillar of Bruntwood SciTech's strategic focus and, with our new investment we will continue to provide and increase much-needed infrastructure and support for the growth of the science, tech and broader innovation sector."
Cllr John Cotton, Leader of Birmingham City Council, said: "The completion of Enterprise Wharf is a significant milestone and the beginning of a new chapter as Birmingham strives to be a leading international city.
"Our city has a proud history of invention, research and development and both the Birmingham Innovation (B-IQ) and Knowledge Quarters will build on that tradition, becoming a space where globally-recognised innovation, the brightest talent and most exciting businesses and cultural institutions come together.
"Investment from the Local Growth Fund has made the vision and ambitions of Bruntwood SciTech through the delivery of Enterprise Wharf into reality and one that continues to drive inclusive and sustainable economic growth in Birmingham and the wider region."
Enterprise Wharf is a short walk from HS2's Curzon Wharf station which is at the heart of the Birmingham Knowledge Quarter regeneration area. Additional development alongside HS2 will deliver 3,420 homes, as well as new retail and leisure amenities – including independent bars and retailers all within a newly masterplanned district. Enterprise Wharf benefitted from funding from Birmingham City Council's Local Growth Fund, with £5m grant funding provided to extend the region's leading tech campus. It was designed by award-winning architects, Associated Architects, with construction delivered by contractor John Graham and Son, and is supported by agents Avison Young, CBRE and Savills.