31 October 2023
Bruntwood Scitech Completes Historic Manchester Bank Transformation Project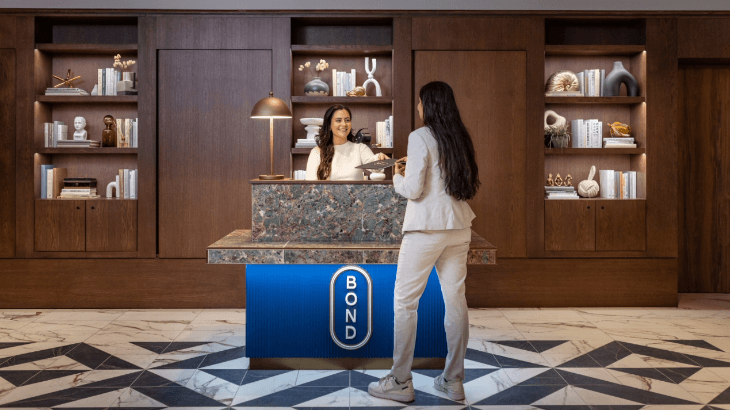 The UK's largest dedicated property platform serving the growth of the nation's knowledge economy, Bruntwood SciTech - a joint venture between Bruntwood, Legal & General and Greater Manchester Pension Fund - has announced the completion of Bond in Manchester. Reimagining 38-42 Mosley Street, a 28,000 sq ft 19th Century bank, and combining it with adjacent building 57 Spring Gardens, has created a contemporary workspace and leisure destination to support innovation-led businesses.
The milestone follows the company's announcement earlier this month of half a billion pounds of additional investment being made into Bruntwood SciTech to further support the UK's science, tech and innovation sectors, and the transfer of Bruntwood's city centre portfolio to become city centre innovation hubs.
New customers have already started moving into the transformed Manchester city centre landmark, 63% of which has been pre-let, including global technology data company Safety Culture which has taken 9,000 sq ft, and will benefit from joining Bruntwood SciTech's UK-wide like-minded community of 1,100 startups, scaleups and global businesses. Safety Culture's digital workplace improvement platform is used by more than 70,000 organisations across the world. The Sydney-headquartered business will gain access to Bruntwood SciTech's specialist growth support, which includes direct access to highly skilled talent, new markets, funding and a large professional services network.
A comprehensive and sympathetic restoration of the Italian Palazzo style, Grade II* listed building, the project has focused on preserving links to the past by creating a workspace and hospitality destination that showcases the building's impressive original features, such as the palatial double height banking hall and second floor dome room.
Across four refurbished floors, occupants can enjoy a contemporary working and collaboration environment that's steeped in heritage and history. Designed by Edward Walters – who also created the city's historic Free Trade Hall – the building was originally constructed in 1862 to house the Manchester and Salford Bank.
Bond offers a range of different sized and fully fitted offices from 1,000 sq ft to 9,400 sq ft, a new communal lounge with a striking fire at its heart, and will soon host a unique restaurant offering located in the old banking hall. Final works on the restaurant space are underway with a hospitality provider set to be confirmed soon.
Refurbishment of the palazzo basement has also been undertaken, creating impressive wellness facilities to promote active travel, wellbeing, and work-life balance, including one of the largest gyms across Bruntwood SciTech's portfolio, a large, secure cycle hub, contemplation room, high-end showers, and changing and vanity area. Bruntwood SciTech has also worked closely with digital services provider essensys to ensure superfast and secure connectivity, including WiFi throughout.
Bond's redevelopment will also support a more sustainable future for the building in line with Bruntwood SciTech's net zero carbon ambitions, with secondary glazing, a new heat recovery air source heat pump system and LED pendant lighting installed throughout. Bond's office spaces and communal areas will be 100% electric, including its heating system, and have achieved an EPC A rating.
The site forms a key location in the surrounding cluster of Bruntwood SciTech's city centre innovation workspaces, including Bloc, York House and Pall Mall. Bond will anchor this cluster of buildings to other Bruntwood SciTech spaces across its Manchester ecosystem, which includes 21 city centre hubs and four science and technology campuses such as Circle Square and Manchester Science Park; all of which add to the city's vibrant culture of knowledge, creativity and innovation and will contribute to the economic growth impact from the innovation sector to the city.
Launched in 2018 as a joint venture between Bruntwood and Legal & General, Bruntwood SciTech recently announced £500 million of investment and welcomed a third investor to the partnership, Greater Manchester Pension Fund, to further power regional economies through innovation in cities and amplify its support for the UK to become a global science and technology superpower. This is the first direct and active investment by a local authority pension fund into a UK-wide science, tech and innovation specialist property platform. Its structure also enables other UK local authority pension funds to co-invest efficiently and on an asset by asset basis, so that long term, patient capital can play a crucial role in the growth of the domestic innovation sector.
Ciara Keeling, Chief Operating Officer of Bruntwood SciTech, said: "The completion of Bond represents a significant milestone in this historic building's story, and for Bruntwood SciTech in providing further forward-thinking workspaces for innovative businesses in the North West and beyond. Through Bond's redevelopment, we have been able to create a space where businesses can connect, grow and flourish as part of our commitment to providing exceptional facilities that support innovation-focused businesses in key city centre locations.
"It's vital to the health and prosperity of Manchester's innovation ecosystem that we develop and provide workspaces that are embedded in a like-minded community, provide space for growth, and opportunities for collaboration and connection. This is what Bond, and our wider cluster of workspaces across the city, champion.
"In sympathetically refurbishing many of Bond's original features and characteristics, we've also developed a space which seamlessly blends contemporary and Victorian styles into a workspace that is both unique and in keeping with the spirit of Manchester's diverse built environment. It is testament to what can be achieved when we think ambitiously and creatively about how to restore and modernise Manchester city centre whilst meeting crucial sustainability targets."
The project team responsible for restoring the building back to its former glory included architects AXI, Paul Butler Associates as planning and heritage consultant, and Hilson Moran as MEP and sustainability consultant.
Further details on lettings can be sourced via the project's retained agents at CBRE and OBI. Visit the Bond web page for more information about the development.