11 January 2023
Legal & General Secure Over 100 New Homes for Suburban Build-to-Rent Business
Legal & General's Suburban Build-to-Rent business (LGSBTR) and Cala Homes have agreed an exchange of 107 homes at Buckler's Park, Crowthorne, in the South East of England. This is the first forward funding transaction between LGSBTR and major homebuilder Cala, which are both owned by Legal & General Capital.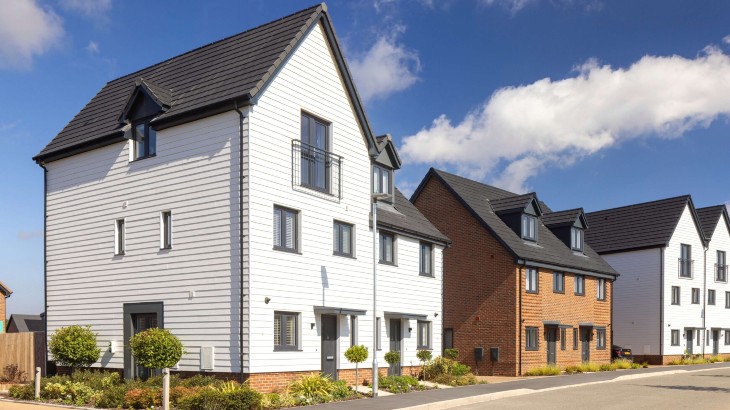 The 107 homes are expected to be completed in 2025 and will comprise two- and three bedroom houses constructed to the new Part L standards with electric vehicle charging (EVC) points and air source heat pumps. The wider Buckler's Park 1,000-home masterplan, led by Cala's Thames business, will include a community and sports hall, nursery, café, flexible meeting spaces, and a new primary school.
David Reid, Managing Director of Legal & General SBTR: "Demand for new homes remains high across the country, so it is vital to keep investing in and developing multi-tenure offerings to suit the diverse needs of housing customers. At Legal & General SBTR, we aim to deliver the high-quality housing stock with reliable customer service needed to meet this demand, and we are thrilled to be collaborating with Cala Homes on the Buckler's Park site in Crowthorne. We look forward to continuing our relationship with Cala to deliver much-needed homes for rent across the UK and to build upon the synergies between the Legal & General housing businesses."
John Richards, Land & Planning Director of Cala Homes Thames: "We're delighted to work with our colleagues at Legal & General SBTR to broaden the tenure mix and accelerate delivery of much-needed homes in Crowthorne. Buckler's Park is an excellent example of brownfield regeneration – we're meeting local needs by building a range of high-quality dwellings, from one-bedroom apartments up to five-bedroom homes, and now LGSBTR is delivering homes for rent too.
Projects like Buckler's Park demonstrate the opportunity for collaboration between Cala and Legal & General's other housebuilding businesses to deliver high-quality homes across a wider range of tenures, on the same site for local community benefit."
Legal & General's SBTR platform creates much needed, high quality family homes in areas connected to schools, transport infrastructure and key amenities, offering a best-in-class product, exceptional service as an institutional landlord, and a long-term, reliable service proposition for customers. Legal & General SBTR homes are designed to reflect new ways of living post-COVID, such as incorporating home offices and offering access to more extensive outdoor space. In line with Legal & General's wider commitment to sustainability, the SBTR platform will target to be operationally carbon net zero from 2030.